Falling within the umbrella of our complete managed compliance service, thermographic surveys are included as a supplement to all our fixed wire testing programs – a service not usually not included by our competitors.
With the assistance of a thermal imaging camera, our engineers are able to capture potential weaknesses within electrical components, also known as "hot spots" which, otherwise may be missed visually. Completed alongside a fixed wire testing inspection, these images are compiled and a thermal imaging report is created. Included in a survey are electrical components such as main LV transformers, main switch panels, sub/distribution boards, consumer units and supplies to fixed equipment.
Any high temperatures within electrical components are often indicative of imminent or possible problems. Electrical components often fail because of fatigue, defective components, contamination or just loose connections but all failing components have one thing in common, they will always have a rise in temperature or 'hot spot' prior to failure.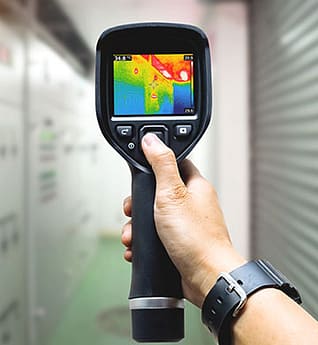 It is imperative that as many circuits as possible are in operation whilst carrying out the Thermographic survey as it is only when the electrical system is under load, that hot spots are most readily identified. In order to gain the maximum benefit from the survey, it is better to remove covers or open doors wherever possible, as the camera measures surface temperature.
Suspected problems identified during the course of a survey are photographed, with both thermal and digital images presented in our report. Guardian would give an explanation as to the cause of problems identified, wherever possible. In the report there will also be a listing of all equipment surveyed for reference purposes, which will satisfy EaWR 1989, and BS7671:2018.
Additional Guidance on the scope of the thermographic survey is given in IET Wiring Regulations 18th Edition BS7671:2018 Guidance Note 3 – Inspection and testing.