Selected from over 40 other applicants, TraQ-it has been crowned the winner of the 2022 Tomorrow's FM Awards. Receiving such recognition for many years of hard work means a great deal to all members of Guardian Electrical Compliance. Managing Director, Ian Carnall has penned a few words of appreciation –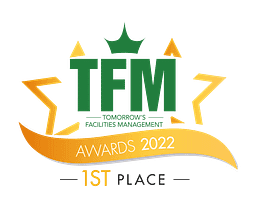 "Our unique online, real-time, interactive portal, TraQit, has been a '10-year overnight success', which, continues to evolve as a consequence of client feedback.
We are delighted to be recognised for our collective, innovative effort in winning such a prestigious award, and sincerely thank Tomorrow's FM magazine.
The capability and functionality of TraQit, to maintain, edit, archive and instantly access accurate electrical compliance records, whilst in the workplace, has proven to be a winning formula for some 3,000 clients including many blue-chip organisations."
Guardian's industry-leading reporting tool, TraQ-it is an interactive online portal that has been developed at a significant cost after several years, by the Directors. Initially, TraQ-it was created to eliminate the requirement of paper-based reporting and instead, give all clients access to their own secure account, where all documents such as EICRs, schematic drawings, and anything else relating to electrical testing would sit.
Since its inception, TraQ-it has evolved and additional features now include, instant reporting, exporting capabilities, hierarchical permission levels, search and filter functionality, remote printing, and much more.
The latest addition to TraQ-it is the mobile app, which includes the function to view reports on any mobile device and also, to scan QR codes. On completion of a site receiving its fixed wire inspection & test, unique QR code stickers are placed onto each distribution board. These QR codes can then be scanned using the TraQ-it app, giving any user instant access to all reports associated with that board. This will prove beneficial when undertaking any maintenance work, potential audits, and locating circuits.
For TraQ-it, the future is clear – constant evolution & innovation. It's doesn't hurt to win an award or two along the way!