The Guardian
Complete
Managed Compliance Service
Complete Managed Compliance
Guardian's Complete Managed Compliance Service has evolved over a 25-year period, considering client feedback, personal experience of HSE incidents and as a preferred supplier for AXA Insurance.
From the initial appointment with one of Guardian's Sales Surveyors, the professional service of the directly-employed Inspectors, through to the TraQit and remedial departments and the technical and legislative update service, Guardian offers an unparalleled cradle-to-grave solution, in respect of compliance with the relevant aspects of the Electricity at Work Regulations 1989.
This practice has led to partnering with the majority of clients, leading to a 93% business retention rate in recent years.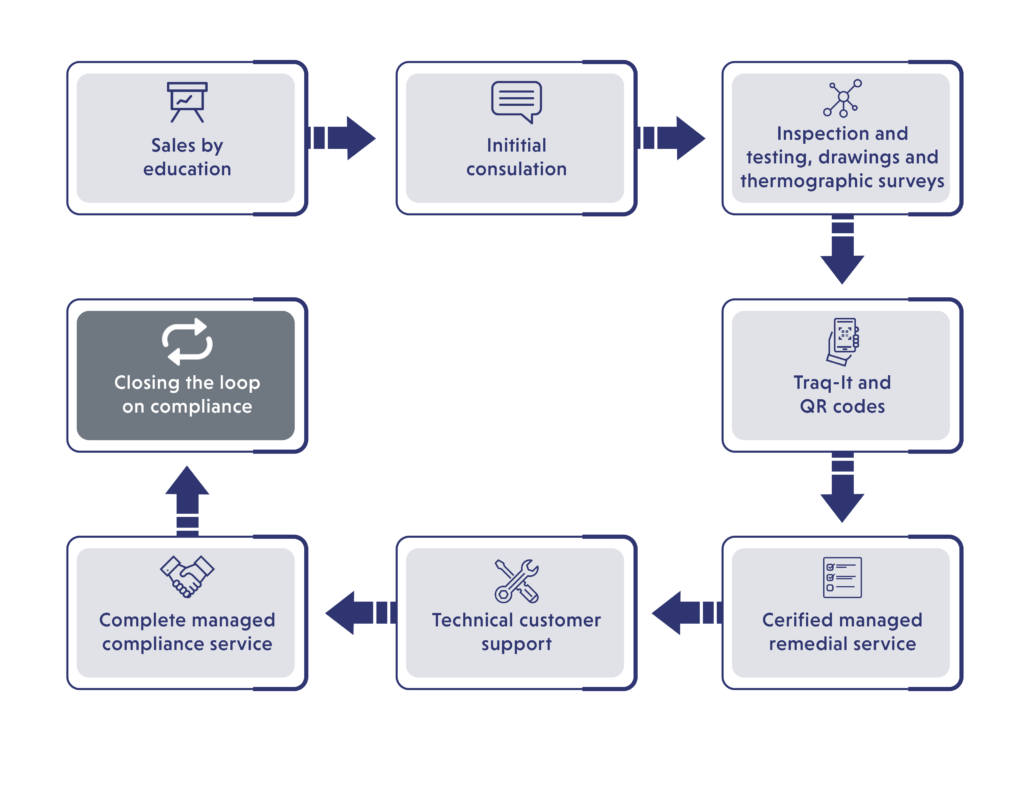 Benefits of a Complete Managed Compliance Service
Not a tick in the box testing, guaranteeing a feeling of management and control
Instantly accessible and independently managed, current and historical records via TraQit
Satisfying the complaince requirements of the HSE and demands of the Insurer
Continuous updating of records to satisfy internal and external audits
Accurate records available for company stakeholders and electrical installation projects
Costs are justifiably reduced for future cycles of testing
The 9 stages of a Complete Managed Compliance Service
Authors of the renowned "Dutyholder Guidance" booklet and several practical guidance notes. Hosted over 70 compliance seminars since 2000, now CPD accredited.
Initial Consultation Ensuring an Individual Approach
One-to-one appointment with one of our technical sales engineers. A walk through of legal compliance requirements supported by Guardian guidance literature. Site surveys conducted as necessary.
Inspection and Test, Comprehensive Drawings and Thermographic Survey of Distribution Boards
Drawings and thermographic surveys of distribution boards to ensure Duty Holder compliance with the relevant aspects of the Electricity at Work Regulations 1989 (EaWR). Particular focus is on the legal requirement for network drawings as required by ABSOLUTE Reg 12.
Provision of Switchgear ID and Warning labels
A traceable labelling scheme for switchgear, co-ordinating distribution boards with the relevant Electrical Installation Condition Report (EICR). A variety of warning labels affixed to distribution boards are consistent with the requirements of BS7671:2018.
TraQ-it Reporting and QR Codes
Guardian's exclusive interactive website TraQ-it, provides the standard medium of reporting and now interacts with QR codes affixed to distribution boards. This ensures instant site access for maintenance teams or contractors to the relevant distribution board report and schedule.
A Managed Remedial Service to 'Close the Loop'
If required, quotations for Code 1, 2 & FI observations can be issued within three working days of the report being submitted to the Office. There will be little or no client input required and all certified corrective actions will be uploaded and integrated into the TraQ-it system.
Technical Support and Regular Updating of Records
Throughout testing programmes, any technical updates or legislative amendments will be forwarded onto our client base, as a matter of course to ensure they are kept informed. As remedial works are completed, the TraQ-it system will alert all clients as the associated records are being updated with new certification.
Defence in Law Should There be a Breach of EaWR 1989
Your electrical installation should always be 'maintained safe at all times' in accordance with Regs 4(1) & 4(2) of EaWR 1989. Whilst undertaking your testing programme and employing a managed remedial service as outlined above in item 6, clients can demonstrate continuous monitoring and maintenance of the electrical system, with current and historical records. All of which is available on TraQ-it.

Future Cycle of Testing Could be Reduced by 30%
Certified evidence of corrective action, integrated with testing records throughout your testing programme will ensure you have current, accurate, consolidated records with a version history of all changes to the electrical installation. Once this is achieved, an alternative approach for the next cycle of testing is available under paragraph 69 of EaWR 1989 called "Effective Monitoring".
We're happy to help, contact us today...