Guardian Electrical & the remedial process
From the initial appointment with a Guardian Sales Engineer, the professional service of directly employed Inspectors, through to the TraQ-it and remedial departments, and technical and legislative update service, Guardian offers an unparalleled cradle to grave solution, in respect of compliance with the relevant aspect of the Electricity at Work Regulations 1989.
The remedial process explained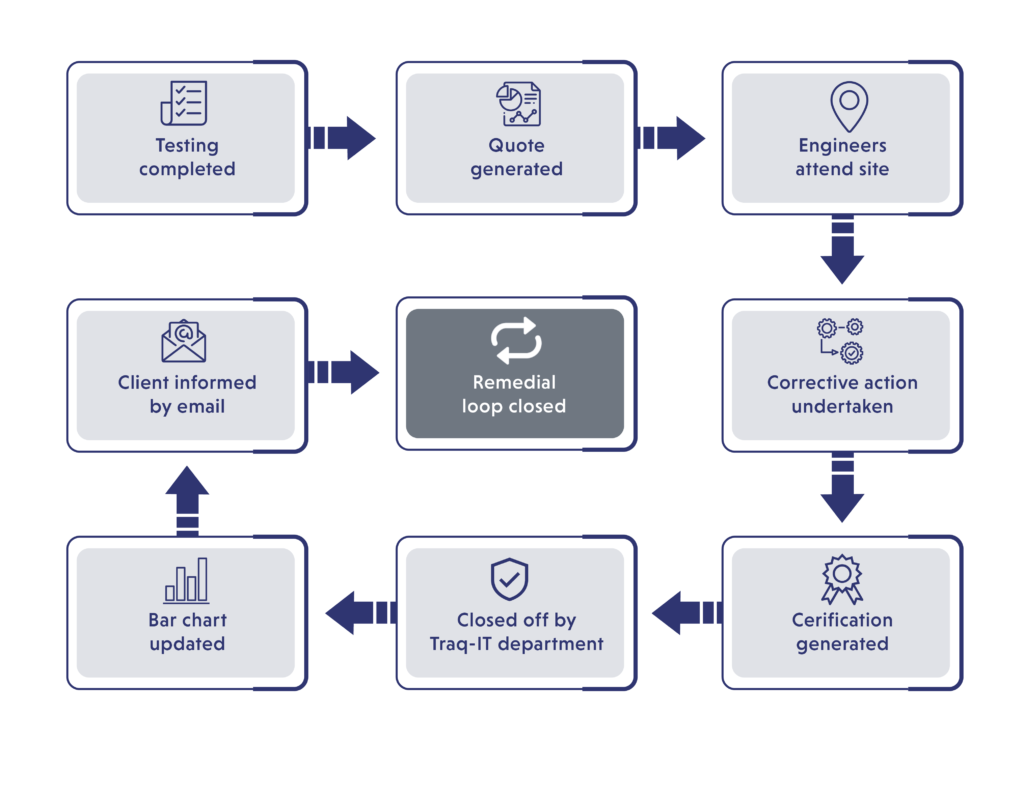 Time for remedial action?
During the fixed wire inspection and testing process, it is highly likely that both Code 1 and Code 2 observations will be identified on your site, which will require immediate or urgent attention. Despite sending bi-monthly reminders, recent client analysis shows that 50% do not evidence, via minor works certification, closure of outstanding Code 1 and Code 2 observations.
Guardian has now taken the step of offering a remedial service to ensure timely completion of corrective actions. Additionally, you will have peace of mind that your real time TraQ-it bar charts will be updated to ensure records are current, accurate and consolidated with a version history of all system changes. On completion of certified system changes, automatic email alerts will be issued to all listed Duty Holders, guaranteeing they are kept in the loop and effectively monitoring the changes.
What if I don't take remedial action?
As Duty Holder and from a legal perspective, you are in a more onerous position should an incident occur which leads to a breach of EaWR 1989. i.e. you knew about it, but still did nothing. From an insurance perspective, you cannot be insured against non-compliance with an absolute regulation, the wording can often be found in the Insurers small print.
Under Duty Holder Regulation 3 of EaWR 1989:
"It shall be the Duty of every Employer, Director, Manager, Supervisor and Employee whilst at work to: "comply with the provisions of the Electricity at Work Regulations 1989, in so far as matters which are within your CONTROL"
Furthermore, Regulation 4 (1) and (2) of EaWR 1989 state:
As may be necessary to prevent danger, all systems, shall at all times be of such construction, so as not to give rise to danger.
All systems – from a battery to a Power Station
All times – no days off, no respite
Construction – designed, installed, maintained and operated.
We're happy to help with any questions you may have